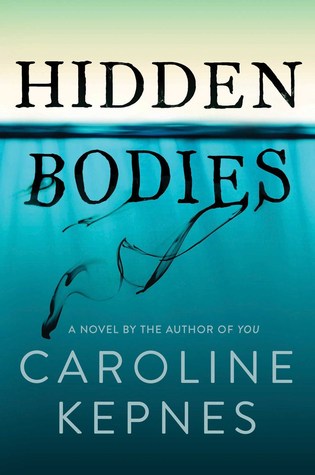 Hidden Bodies
By: Caroline Kepnes
Genre: Mystery/Thriller
Joe Goldberg is no stranger to hiding bodies. In the past ten years, this thirty-something has buried four of them, collateral damage in his quest for love. Now he's heading west to Los Angeles, the city of second chances, determined to put his past behind him.

In Hollywood, Joe blends in effortlessly with the other young upstarts. He eats guac, works in a bookstore, and flirts with a journalist neighbor. But while others seem fixated on their own reflections, Joe can't stop looking over his shoulder. The problem with hidden bodies is that they don't always stay that way. They re-emerge, like dark thoughts, multiplying and threatening to destroy what Joe wants most: truelove. And when he finds it in a darkened room in Soho House, he's more desperate than ever to keep his secrets buried. He doesn't want to hurt his new girlfriend—he wants to be with her forever. But if she ever finds out what he's done, he may not have a choice...
Review by Amanda
4 Tea Cups!
Thank you Netgalley for the free copy in exchange for a honest review.
Hidden Bodies is the sequel to You and is now available! Before I get into my review on Hidden Bodies, I'll give you a quick synopsis on the first novel. Like any series, it is best to read the first novel before the second.
You starts the story of Joe Goldberg. Joe is not your typical protagonist. He is a stalker and killer and will not stop at anything to get what he wants. Joe wants Beck. Joe stalks Beck constantly and ends up becoming her boyfriend, but she has no idea who he really is.
Hidden Bodies continues on with Joe's story. Joe is now in Hollywood to hunt down someone who has betrayed him badly. He finds that he is out of sorts in Hollywood (compared to his home town of New York City) and it takes Joe a bit to find his footing. Joe then falls in love and will do anything to protect what he has and he will do whatever he can to keep his relationship. However will his past come back to hunt him?
You and Hidden Bodies is not for everyone. Some people may not like being in the mind of a psychopath and the novels have lots of sexual content. Joe is also one of those characters that you either love (in a weird way) or hate him and want him locked up.
I found myself really torn on the first novel. I enjoyed how different the novel was, but found myself not loving Joe and found myself really grossed out by him. I enjoyed Hidden Bodies much better. I knew what I was getting into and I found that I understood Joe better and even rooting for him! It was also really refreshing to get away from a typical mystery/thriller novel.
If you are a fan of something different or if you like to read about psychopaths then definitely check out these novels!
Buy Links:
You:
Hidden Bodies: