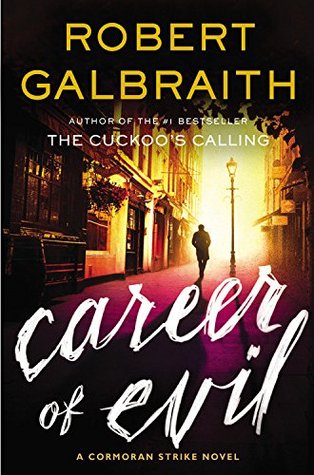 When a mysterious package is delivered to Robin Ellacott, she is horrified to discover that it contains a woman's severed leg.

Her boss, private detective Cormoran Strike, is less surprised but no less alarmed. There are four people from his past who he thinks could be responsible – and Strike knows that any one of them is capable of sustained and unspeakable brutality.

With the police focusing on the one suspect Strike is increasingly sure is not the perpetrator, he and Robin take matters into their own hands, and delve into the dark and twisted worlds of the other three men. But as more horrendous acts occur, time is running out for the two of them…

Career of Evil is the third in the highly acclaimed series featuring private detective Cormoran Strike and his assistant Robin Ellacott. A fiendishly clever mystery with unexpected twists around every corner, it is also a gripping story of a man and a woman at a crossroads in their personal and professional lives.
Career of Evil is the third novel in the Cormoran Strike series by Robert Galbraith (aka JK Rowling). For those of you who haven't heard of the series, it is a mystery series about a war veteran (Cormoran Strike) and his secretary/ partner Robin who together runs a detective firm. You don't need to read the previous two novels before this novel, since each novel focuses on a different mystery, but if you want to know the background of the main characters (Cormoran and Robin) then you should start from the beginning. Don't worry my review won't have any spoilers from the previous novels!
Career of Evil is different from it's predecessors, since Cormoran and Robin are not working for a client. They are thrown right into the mystery once Robin receives a severed leg, that was clearly sent as a message to Cormoran. They work together with the police to track down a person from Cormoran's past.
The biggest negative for me was the length of the novel. My friend's hard copy was just under 500 pages, but I found that I didn't get into the story until page 250. There was a lot happening at the beginning of the novel. Cormoran narrows down the suspects to 4 and then the readers learn the background of the 4 and then Cormoran and Robin need to track down the 4. It was just a lot of background information and not too much was happening.
I found the mystery aspect to be so-so, and it doesn't compare to the great mysteries out there. At times, it didn't feel like a mystery, but a chase of the 4 suspects and elimination of the non-killer. I did enjoy how the reader got the killer's thoughts throughout the novel.
I enjoyed the non-mystery aspects, which was learning more about Robin and about her past. Robin is so easy to relate to and someone that you want to root for.
Overall, Career of Evil is a good continuation of the series, but my least favourite novel due to the lack of mystery.