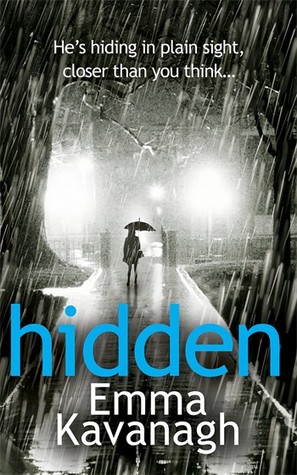 Hidden
By: Emma Kavanagh
Genre: Mystery/Thriller
HE'S WATCHING

A gunman is stalking the wards of a local hospital. He's unidentified and dangerous, and has to be located. Urgently.

Police Firearms Officer Aden McCarthy is tasked with tracking him down. Still troubled by the shooting of a schoolboy, Aden is determined to make amends by finding the gunman—before it's too late.

SHE'S WAITING

To psychologist Imogen, hospital should be a place of healing and safety—both for her, and her young niece who's been recently admitted. She's heard about the gunman, but he has little to do with her. Or has he?

As time ticks down, no one knows who the gunman's next target will be. But he's there. Hiding in plain sight. Far closer than anyone thinks...
I loved Hidden by Emma Kavanagh! It was such a twist on the typical mystery/thriller genre. I wrote a review a few weeks ago about Kavanagh's debut novel, Falling, but her second novel blows her debut out of the water!
The opening chapter leads off with a shooting. The narrator talks about how people are dead and more injured. It's intense and you have no idea who the gunman is. I can't remember the last time the opening chapter of a novel gripped me so much.
The remaining chapters of the novel goes back 5 days before the shooting and you get the perspectives of the gun man and 3 other main characters. In Kavanagh's first novel, the main characters annoyed me, but in Hidden I could feel a connection with all of them.
Firstly, there was police officer Aden. There was a shooting (about a year before the present day shooting) that Aden was involved with that has shaken himself and the officers that he works with. It was interesting going into Aden's mind where he was trying to look ahead with the new crimes occurring, but was so stuck in the past.
Second was Imogen. She is a psychologist that has worked with Aden and other officers after the first shooting. I really liked Imogen, she was super smart and logical and she really cared for her family, especially her twin sister and niece.
Next was Charlie. Charlie is a newspaper reporter who is friends/acquaintances with Aden and Imogen. She was shaken up by the death of a friend and is fighting for the truth.
Lastly, the gun man. For those who don't know, I am a huge fan of getting the villain's perspective. I loved getting inside of their head and what makes them tick. There was quite a few chapters of the gunman's preceptive and you learned quite a lot of information about them. It annoyed me to no end that I didn't know who it was. I kept flipping back and forth, but I never guessed it right in the end.
The reason I am not giving Hidden a 5 tea cup review is because I didn't love the ending. I think it was because I was expecting more. I wanted to know all of the answers, but I didn't get them. I really like things to wrapped up in a nice bow.
I am a huge fan of Emma Kavanagh and will be keeping my eye out for more of her work. If you are a fan of mysteries and thrillers then check out her novels!
Buy Links: